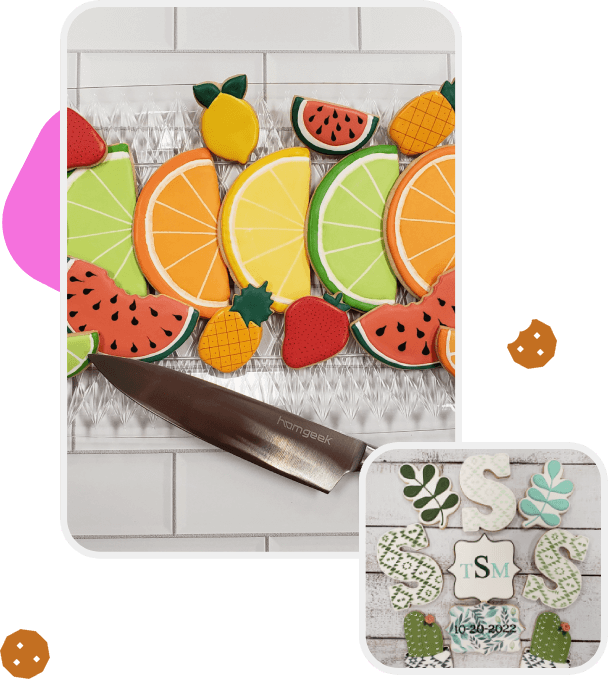 We are a home-based business licensed with the state of Arizona under the cottage food laws. We are located in NW Peoria, Az offering home-baked delicious cookies! My love for baking started more than 20 years ago when my daughter and I started making cookies as gifts for our friends and family. As we perfected our recipes and techniques, we were asked to make them for special occasions for friends and their friends.
I could not deny my passion for baking and decorating cookies any longer, so I decided it was time to share our offerings with everyone, and The Cookie House was born! Our delicious classic cookies are the perfect treat anytime and our hand-decorated sugar cookies are great for all your special celebrations and corporate events. The love and time we put into our cookies shows in both our flavors and our creativity.
"Whether I need to pick up some last minute cookies for friend's birthday party, order a sweet treat for a potluck, or surprise a client - they NEVER let me down! The Cookie House is a great way to add a unique and fun treat to any event. We ordered some college themed cookies for our daughter's graduation party and they were a big hit. They are super delicious and I always get lots of compliments on my yummy choice."
Melanie E.
"OMG! Shannon's cookies are the best. For over 10 years, I've been enjoying the world's best cookies. Not only are they a work of art, but also a culinary delight. Her custom, special order cookies are something to behold. If you can imagine it, she can create it. My favorites are her decorated cookies. A soft, airy cookie with sweet icing are out of this world. I can't wait for her grand opening so I can eat them anytime. Not just on special occasions."
Nancy B.
"These cookies are ABSOLUTELY the BEST! I bought a few for my daughter's teacher about a year ago and a few for our family members recently and everyone has loved them! They're a perfect size, soft, with a very slight crisp, and taste SO delicious! They're everything you look for in a homemade cookie! I'll definitely keep coming back. The owner and staff are always so friendly! Thank you!!!"
Vanessa K
"I ordered cookies for my husband as a surprise for our first wedding anniversary. I came in with a photo I found online and asked if she could make them. The owner said yes but also took the time to tell me all of the options I had to make the cookies unique and special to us. She suggested changing the shape to a heart and using our wedding colors since they were for our anniversary. I'm not creative like that at all and was so excited by her ideas! I ordered them about a month in advance and she packed them so nicely that not a single cookie broke during our flight! I almost forgot to mention that the cookies are, of course, delicious. I'll definitely be ordering from her in the future and recommend you do too!"
Ashurina K